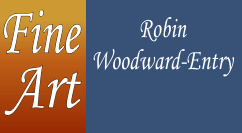 Robin was born in Washington D.C. to a family of artists, grandfather, grandmother, father, and two brothers, (WoodwardBrothers.com). She graduated from Frostburg University, Frostburg, Maryland and attended The Maryland Institute of Art, Baltimore, Maryland and The Herbert H. Lehman College of the City University of New York.
She painted murals for "Colette's of the Watergate", Washington D.C., "Plate Grande" Restaurant in Annapolis Maryland, and the Montgomery County Public School System.
She taught art in both private and public schools in Maryland, New York and Haifa, Israel. Robin was the art director for 'Jaime' Textile Design Firm in Miami, Florida.
From 1990 to 2005 she worked as a graphic artist for the Agency for International Development, The State Department, Washington D.C., The United States Army Visual Information Center, Pentagon, Washington, D.C. and the United States Southern Command, Miami, Florida.
Robin currently lives and paints in Dania Beach, FL.
© 2005-2011 Robin Woodward-Entry, WoodwardSister.com. All rights reserved.
---
Questions or problems with this site? Please contact my webmaster, Jim Foerster, at baobab@spro.net.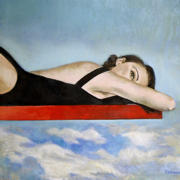 People, Places, & Things Paintings Gallery
go to People, Places, and Things Paintings Gallery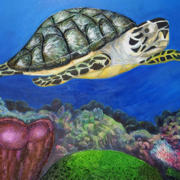 Underwater Paintings Gallery
go to Underwater Paintings Gallery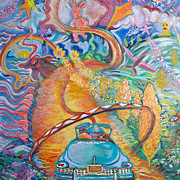 Dream Paintings
go to Dream Paintintgs Gallery